Learn more about the power of softwashing.
As a homeowner, you're no stranger to using pressure washing to refresh and renew the appearance of your property. But when you need to get rid of algae, pollen, dirt, moss, or other contaminants that aren't tolerant of the impact of pressure washing, softwashing is the right option.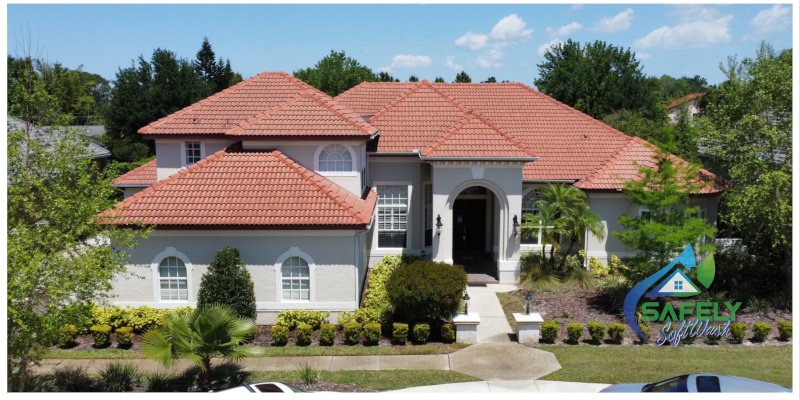 Softwashing is a type of cleaning method that uses low-pressure washing, in addition to a combination of surfactants, bleach, algaecides, and water to safely and effectively clean exterior surfaces and remove mildew, algae, and stains.
Even though softwashing and power washing seem similar, both cleaning methods use different chemicals, pressure, equipment, and techniques. Softwashing is typically done with much hotter water and less pressure than power washing, and it can make nearly any exterior surface look like new.
Choose our team at Safely Softwash to clean your home in Orlando, Florida, and you'll be blown away by the results. We can clean your roof, gutters, windows, siding, walkways, driveway, pool deck, and more. During the cleaning process, our certified, highly trained, and experienced technicians will use softwashing techniques to clear away dirt, grime, and buildup to improve your home's curb appeal and make its surfaces look like new.
You've put a lot of time, money, and effort into making your house a home, and we want to help you protect its surfaces and appearance. Contact us today to get a custom quote for softwashing and learn more about what this cleaning process is like.
---
At Safely Softwash, we offer softwashing services in Winter Garden, Orlando, Winter Park, Horizon West, Windermere, Doctor Phillips, Apopka, Ocoee, Gotha, Oakland, Clermont, Minneola, and Montverde, Florida.
Similar Services We Offer: