Roof cleaning companies that offer softwashing can be much better for your roof than pressure washing.
The roof of your home is very valuable for the protection of your home and family, and it should be treated as such. That includes cleaning it regularly and keeping it in great condition. Rather than relying on your own expertise on keeping your roof clean and well maintained, you can hire roof cleaning companies, like us at Safely Softwash, to get the job done for you.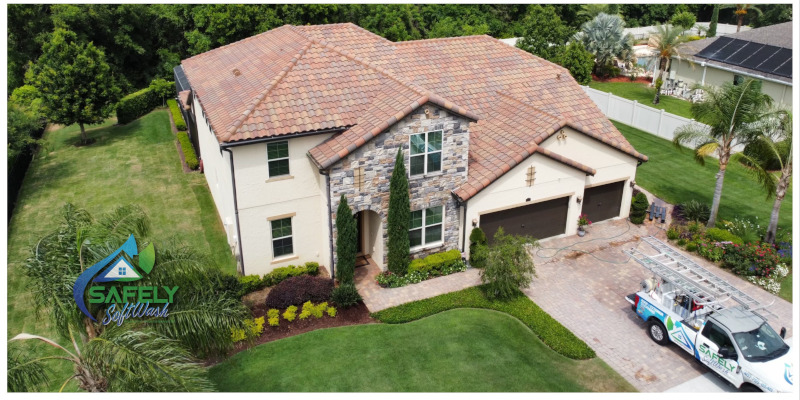 Most roof cleaning companies are dedicated to effectively and efficiently cleaning your roof in a way that will leave you comfortable in knowing you still have that layer of protection over your head. However, not all cleaning companies are created equal. You'll find some roof cleaning companies out there that use pressure washers to clean your roof. While it is effective in removing surface-level dirt, it isn't exactly what we like to consider the best option for your roof. Pressure washing can use a lot of harsh pressure that can potentially erode your roofing materials or damage your shingles over time. It also doesn't leave a lasting cleanliness effect.
Roof cleaning companies that offer softwashing instead, however, can be much better for your roof. We are one of those companies that prefers softwashing over pressure washing. We've found it to be much more effective with longer-lasting effects on your roof. Our softwashing process uses water-based, biodegradable chemicals that gently yet effectively clean and sanitize your roof. We can break through and remove any dirt, grime, insect nests, mold, mildew, or algae that you might have on your roof, and the chemicals keep your roof clean for much longer. Unlike pressure washing, softwashing doesn't damage the surface or shingles on your roof.
Choose a roof cleaning company that can leave your roof clean and protected from future grime, buildup, and erosion. Give us a call today to schedule our roof cleaning services for your Windermere, Florida home.
---
At Safely Softwash, we are proud to be one of the roof cleaning companies serving Winter Garden, Orlando, Winter Park, Horizon West, Windermere, Doctor Phillips, Apopka, Ocoee, Gotha, Oakland, Clermont, Minneola, and Montverde, Florida.