We're proud to be among the best roof cleaning companies in the area.
When you think of your roof, you probably think of it in terms of the protection it offers your home or business rather than its appearance. But if you're one of the unlucky people who have dark algae streaks or other unsightly stains on the roof, your roof's appearance isn't something you can ignore.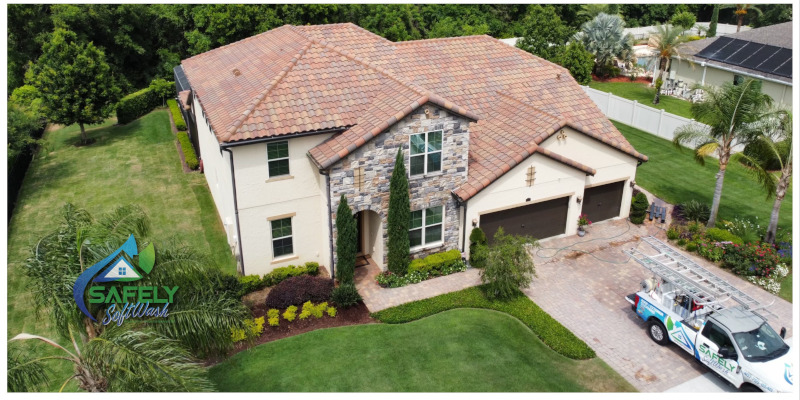 Algae and other contaminants, such as mold, mildew, lichens, moss, and bacteria, are an aesthetic concern, to be sure. But they can also be damaging since these may degrade your roofing materials over time. The damage these contaminants cause may lead to other problems down the line as well. For instance, the dark streaks may absorb more heat from the sunlight, causing your cooling bills to go up. So, once you notice that your roof is covered in contaminants, it's time to start looking at roof cleaning companies.
There are several roof cleaning companies you could turn to in the area, but we count ourselves among the best here at Safely Softwash because we use the best technique and products. Our approach to roof cleaning is a gentle one, and it's called soft washing. This safe alternative to pressure washing won't erode your shingles or other roofing materials, and the water-based, biodegradable cleaning solutions we use will kill any contaminants you may have on your roof. Your roof will be spotless when our job is done, and it will stay that way longer than it would with any other method.
If you're looking for roof cleaning companies you can trust, make us your number-one choice. We proudly offer roof cleaning for both residential and commercial clients in Oakland, Florida, and we're prepared to earn your satisfaction. Contact us today to learn more.
---
At Safely Softwash, we are proud to be one of the roof cleaning companies serving Winter Garden, Orlando, Winter Park, Horizon West, Windermere, Doctor Phillips, Apopka, Ocoee, Gotha, Oakland, Clermont, Minneola, and Montverde, Florida.