Our team has the right experience to take care of all your fence cleaning needs.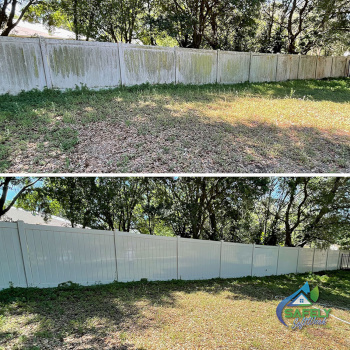 Here at Safely Softwash, we understand that you care about your home, and we want to help you take care of it. To do this, we offer expert soft washing services that will keep your siding, roof, and other exterior structures looking their best and ensure they remain in great condition in the long term. One of the many services we offer is fence cleaning, and below, we will go over a brief explanation of how it works.
The first step in our fence cleaning process is to treat the fence with a blend of specialized cleaning solutions. These cleaners are designed to kill harmful contaminants, such as mold, mildew, and algae, preventing them from damaging the fence. Our cleaners are also biodegradable, and they help loosen dirt and grime to make them easier to remove. Once the cleaning products have had time to do their jobs, we will spray the fence with low-powered jets of water to wash them away, carrying the dirt, grime, mold, etc., along with them. By getting rid of mold and the like, our team ensures that your fence will remain cleaner for longer than it would if washed with water alone and thus helps to extend its overall lifespan.
We are proud to serve the Windermere, Florida community, and we want to help you take good care of your fence. If your fence is looking dingy, we encourage you to give us a call to have our team wash it clean once more.
---
At Safely Softwash, we offer fence cleaning services in Winter Garden, Orlando, Winter Park, Horizon West, Windermere, Doctor Phillips, Apopka, Ocoee, Gotha, Oakland, Clermont, Minneola, and Montverde, Florida.