Kick grime to the curb when you schedule driveway cleaning services with our skilled team.
Most paved driveways are built to last, making it easy to forget that they need regular maintenance and cleaning in order to stay in excellent condition, just like any other surface. When you think about it, driveways are subjected to all kinds of contaminants every day, like dripping oil and vehicle fluids, bird droppings, and organic growth like mold, moss, mildew, and bacteria. Keeping it clean can reduce the wear and tear it experiences while providing a welcoming and attractive surface for you and your guests to walk and park on. However, if you're like most people, the idea of DIY driveway cleaning might sound pretty unappealing. That's where our team comes in.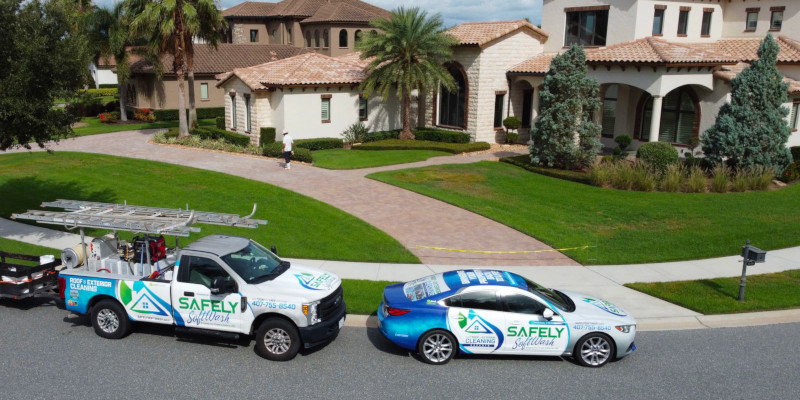 Here at Safely Softwash, we provide professional driveway cleaning services to residents in and around the Ocoee, Florida area. Our team uses a proven method called softwashing to gently but effectively remove tough stains and residue, all while using a fraction of the water and force required for traditional pressure washing services. In fact, softwashing outperforms pressure washing on numerous fronts.
Softwashing is gentle enough to be used on virtually any outdoor surface, so you don't have to worry about cracked or chipped areas worsening during your driveway cleaning service. Our cleaning solutions are water-based and fully biodegradable, making them safe to use around your lawn and landscaping, as well as pets and children. Additionally, because our cleaners specifically target contaminants like algae, moss, mold, and bacteria and fully remove them, you can enjoy the results of your driveway cleaning service from our team for far longer than you would a pressure washing service.
If you're interested in getting a quote for driveway cleaning from our team, simply contact our office to learn more or get started.
---
At Safely Softwash, we offer driveway cleaning services in Winter Garden, Orlando, Winter Park, Horizon West, Windermere, Doctor Phillips, Apopka, Ocoee, Gotha, Oakland, Clermont, Minneola, and Montverde, Florida.