We offer gutter cleaning to make sure water drains away from your property correctly.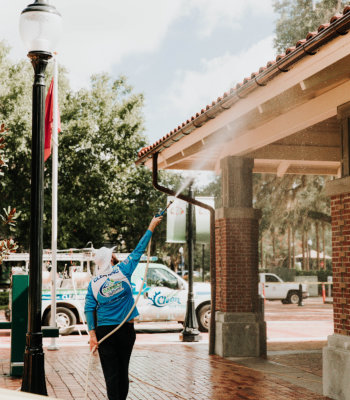 Your roof might keep water from falling straight into your house, but it's your gutters that actually channel rainwater away from your exterior walls, foundation, and the structure at large. Without functioning gutters, you'd likely have some serious water damage on your hands. And even if your gutters are in good repair, they won't function correctly if they are clogged.
To prevent clogged gutters, it's important to clean them twice a year—once in the spring and once in the fall. It can be an arduous task and even a dangerous one since it involves working from a height. Instead of handling your gutter cleaning yourself, you can turn to professionals like us at Safely Softwash.
We'll take the time to remove any leaves, twigs, shingle granules, dirt, moss, or other debris that may be clogging your gutters, and once they are removed, your gutters will allow water to flow through smoothly once more. However, merely scooping out debris may not be enough. If your gutters are covered in mold, mildew, algae, or bacteria, we can remove these too, to prevent them from damaging your gutters and rendering them useless.
We'll use soft washing as part of our gutter cleaning service. This method involves using low-pressure and water-based, biodegradable cleaning solutions that kill contaminants like mold and algae. When we're finished, your gutters will be in better shape than ever.
If you are interested in professional gutter cleaning, we would be happy to provide it for you in Oakland, Florida. Contact us today to learn more.
---
At Safely Softwash, we offer gutter cleaning services in Winter Garden, Orlando, Winter Park, Horizon West, Windermere, Doctor Phillips, Apopka, Ocoee, Gotha, Oakland, Clermont, Minneola, and Montverde, Florida.