We offer exterior house cleaning to enhance and protect your home.
When you and other people see your house from the street, you want the first thing that comes to mind to be how beautiful your home is. You certainly don't want anyone to see it covered in dirt and contaminants, so it's important to stay on top of exterior house cleaning. Appearances aside, it's essential to keep your house's exterior clean for other reasons too. For instance, dirt and contaminants such as mold can damage your house and cause additional problems, so exterior house cleaning is about more than just how your property looks.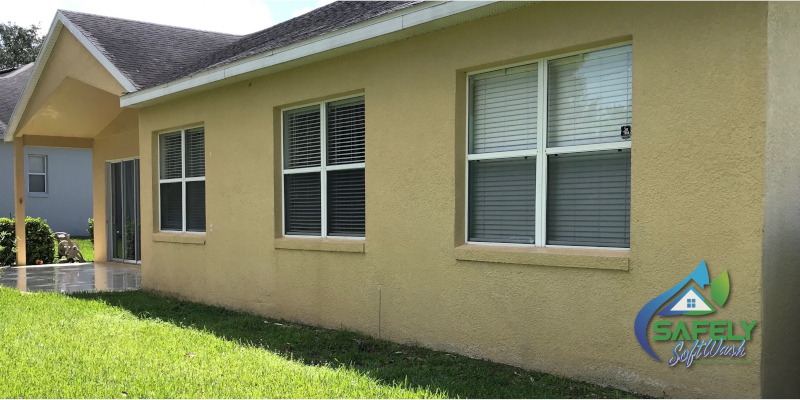 There are many ways to approach exterior house cleaning, but pressure washing is by far the most well-known. What you may not know is that pressure washing is too aggressive for the materials your house is made of. At 3,000+ PSI, pressure washing can erode a variety of surfaces, including durable surfaces such as concrete. If you wish to keep your exterior surfaces clean without damaging them, you need a gentler approach.
At Safely Softwash, we offer a cleaning method known as soft washing, which is a safe alternative to pressure washing. Our equipment doesn't reach more than 200 PSI, so you won't need to worry about potential damages. We also use water-based, biodegradable chemicals to kill any mold, mildew, algae, or bacteria that may be plaguing your house. Soft washing thoroughly sanitizes surfaces, so it's more effective than pressure washing, and its results last 2 to 3 times longer.
If you need exterior house cleaning in Oakland, Florida, we would be happy to provide it for you. Contact us today to learn more or make an appointment.
---
At Safely Softwash, we offer exterior house cleaning services in Winter Garden, Orlando, Winter Park, Horizon West, Windermere, Doctor Phillips, Apopka, Ocoee, Gotha, Oakland, Clermont, Minneola, and Montverde, Florida.
Similar Services We Offer: