Stop risking your health and safety when you let us handle the gutter cleaning for you.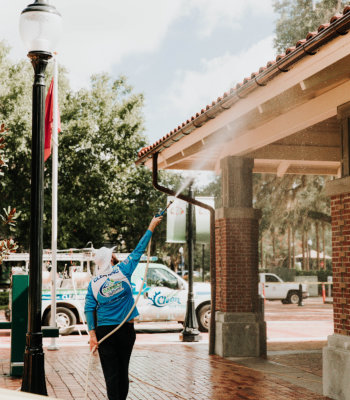 The last time you noticed that your gutters were pretty dirty and filled with grime or worse, you might have gone up on your ladder to clean them yourself. We at Safely Softwash are here to tell you that cleaning your gutters on your own is no longer necessary. Rather than risking your own health and safety, you can rely on us for your gutter cleaning needs for your Gotha, Florida home.
Our gutter cleaning services don't actually involve climbing a ladder or risking anyone's safety in general. We use softwashing to get your gutters cleaner than they've ever been before! This process is similar to pressure washing but uses water-based, biodegradable chemicals instead to clean and sanitize your gutters. We will effectively and efficiently remove any dirt, grime, nests, webs, mold, mildew, algae, or otherwise from your gutters to leave them working well and looking like new.
Because we use gentle chemicals, you'll find that our gutter cleaning has a much longer lasting effect than you might get from trying to clean them on your own or with a pressure washer. We can effectively remove even the toughest amounts of filth, so we can leave you with gutters that will look brand new.
Beyond gutter cleaning, we also offer window cleaning, roof cleaning, walkway cleaning, etc. You can trust us to wash any exterior surface of your house because the softwashing is gentle enough that it won't cause any damage, no matter the material.
Stop risking your own health and safety whenever you need to go up and clean your gutters. Rely on our team to do the gutter cleaning for you instead. Just give us a call today.
---
At Safely Softwash, we offer gutter cleaning services in Winter Garden, Orlando, Winter Park, Horizon West, Windermere, Doctor Phillips, Apopka, Ocoee, Gotha, Oakland, Clermont, Minneola, and Montverde, Florida.