Protect your walkways from mold, moss, algae, and bacteria with our professional softwashing services.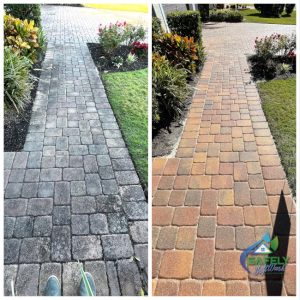 The walkways that surround your property are there to protect your feet from mud and dirt, as well as provide a sturdy, even surface for you to get around on. They also make attractive additions to your landscaping and can help establish boundaries between areas. With all that they do for us, it's easy to forget that our walkways need a little TLC in order to keep them in good condition and ensure they look nice and inviting. Here at Safely Softwash, we offer expert walkway cleaning services that will provide a safe, effective, and long-lasting clean for your walkways.
You might expect our team to use pressure washers during your walkway cleaning service, but we implement a different method called softwashing. Softwashing uses roughly a third of the water that pressure washing requires, and it is gentle enough to be used on virtually any exterior surface. Our water-based, biodegradable cleaning solutions are safe to use around plants, making them the ideal option for walkway cleaning. You can rest easy knowing that your lawn and landscaping are safe with us.
We also have the power to tackle tough stains from contaminants like mold, mildew, bacteria, and algae since our cleaners contain a specially formulated biocide that targets and kills them. Unlike pressure washing services, which just blasts away and often leave spores or broken roots that can quickly regrow, our team will sanitize your walkways and help slow regrowth so that you can enjoy clean walkways for far longer.
We proudly serve customers in and around the Clermont, Florida area. If you'd like to get a custom quote for your next walkway cleaning, contact our office to learn more or schedule a service.
---
At Safely Softwash, we offer walkway cleaning services in Winter Garden, Orlando, Winter Park, Horizon West, Windermere, Doctor Phillips, Apopka, Ocoee, Gotha, Oakland, Clermont, Minneola, and Montverde, Florida.